Experience magic when you book and enjoy a wildlife safari with Magic Wildlife Safaris.
We are the best gorilla safari company in Uganda and Africa as a whole. Gorilla safaris in Uganda, Rwanda and Congo are our top selling Africa Holidays with a combination of wildlife viewing, Big Five Safaris, Chimpanzee trekking, Island safaris, Culture safaris, Birding tours and other tailored tours like Lake Bunyonyi Canoe Trekking.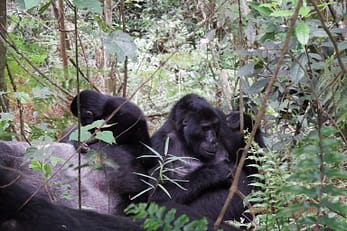 We offer safari excursions that meet or exceed your demands without compromise. Whether it's a gorilla tracking safari in Uganda or gorilla trek in Parc National Des Volcanoes in Rwanda, Honey Moon safari, or walking safari, it is always something very special. There is an attractive discount for both Group and Students Tours. Book for any safari of your choice with Magic Wildlife Safaris and let us work our magic for you.
Depending on how much time you want to spend on your holiday safari. We have safaris for luxury, mid-range and budget tourists.
We offer top quality services to all visitors planning to take Holiday Safaris in Africa. Clients are able to visit any East Africa safari destination or create a combination of tours at very reasonable prices. 15 days are enough to visit Uganda and Rwanda's top attractions, not forgetting to include the Mountain Gorillas in your itinerary.
Our main safari specialization is in primate watch safaris, Wildlife Safaris, Avi safaris, Adventure tours, hiking and game viewing in general. We also make Hotel bookings for our clients, offer travel information, Airport pickup and Transfers, private charter arrangements in Uganda, among others.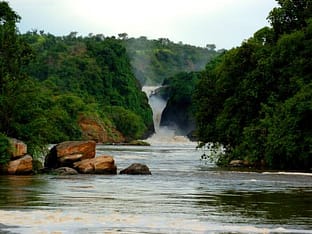 The world of mountain gorilla species has remained at approximately 650-700 gorillas. Research carried out in the past 5 years allows us to continually update our information on the gorilla population. The numbers are shared between gorillas in Uganda, Parc volcanoes Rwanda and DR Congo.
Uganda's forest Bwindi Impenetrable is a home to the Ugandan Mountain Gorillas. Some of the gorilla families have been habituated for gorilla tracking, tracking in the forest in search of the beautiful primates. There are 5 families in Uganda Bwindi Impenetrable, 5 in Rwanda Parc des Volcano and 6 in Congo Virunga National Park.
Gorilla tracking is a challenging and intensive experience that may even take the whole day. The guide leads you through the gorilla's world, explaining aspects of their ecology and behavior along the way. Any visitor taking a gorilla safari has a good chance of seeing these Mountain gorillas, but success is NOT guaranteed.
All the gorillas are known to be wild creatures with no fixed routine, and finding them requires the skill and experience of your trackers and guides, as well as luck. The gorilla trackers, park rangers and guides have helped to habituate the gorilla groups and know them intimately. They will lead you to the different areas where they left the gorillas the previous day with another group of visitors.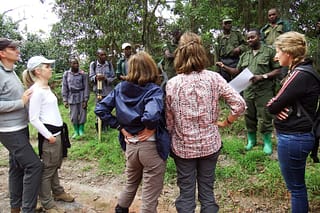 Before the gorilla trekking experience, tourists are briefed on the time they may spend while hiking. While walking, trekkers should feel free to ask guides to reduce the speed if they are going too fast or if you need a rest.
Since the gorilla safari experience is challenging, visitors are advised to be physically fit. Registration and briefing commences at 07.45am. Tracking gorillas starts at 08.30am and can last for a few hours.
Checklist for gorilla tracking: – Sunscreen, hat and rain gear, insect repellent, binoculars, solid walking shoes, camera, drinks and snacks.
Mountains gorillas are peaceful vegetarian animals. Their diet mainly consists of foliage. They mostly enjoy the tender bamboo shoots, as well as the bark of eucalyptus trees. The gorilla family is led by the male silverback, which is very knowledgeable about the medicinal plants and herbs. After eating, the gorillas take a resting interval of a few hours before feeding again. When resting the children play around.
In the evening, the group, which does not have a fixed location, will form a nest to spend the night. The nest is made of bamboo sticks and other broad leaves to provide a blanket against the cold. Gorillas can live up to 45 years and the silverback weighs about 200kg, while the female weighs between 80kg and 120kg. It is possible to visit some of the Gorilla families by walking in the forest of the park, following the direction of the ranger.
Magic Wildlife Safaris offers you comprehensive gorilla safari packages to see Mountain and Lowland Gorillas in Uganda and Rwanda.